Covalanas and la Cullalvera
In the town of Ramales de la Victoria there are two cavities that can be visited : Cullalvera y Covalanas.
If you wish to buy online for the two caves, the intervals between the start of each visit should be of at least 120 minutes of difference. The ticket for each cave can be obtained in the box office of each cave, placed next to the main entrance of both cavities. Remember to be at the box office, 15 minutes before the start of the first visit to obtain the tickets.

C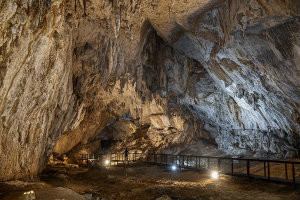 ullalvera Cave, located at the foot of Mount Pando, forms part of a karst complex 12 kilometers long. Where the action of water on the rock, over time have set up a monumental cavity.
It is a large cavity as shown by its spectacular entrance mouth, with 14 m. wide by 28 m. high. From this emerges a strong and fresh current of air that warns the visitor of the cave before being visualized. The setting is a magical space. Its mouth is framed by a lush Cantabrian holm oak of great ecological value.
Its transit through the interior of the cave is conditioned for people with reduced mobility, through a footbridge of 400m. developmental. The visit begins with an audiovisual, where the visitor is explained the landscape, patrimonial, economic and social features of the region of Asón in general, and of Ramales de la Victoria in particular.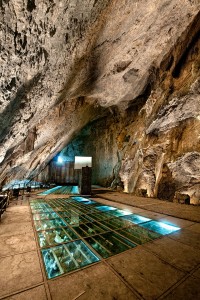 Initiated the visit to the interior, there will be a guided tour, where will explain the main forms and geological formations that exemplify, the geological evolution of this Great Cavity that works at present as an upwelling of water, where the water is channeled of the environment, and where on days of heavy rain, the water emerges, energetic and noisy from its interior towards the mouth. It also explains the link between man and cave, from prehistoric times when the populations of Homo sapiens inhabited the vestibule 13,000 years ago and decorated their interior walls with signs and animals at 600m. and 1200m. away from the entrance until the Spanish Civil War when it was used as a refuge of the Park Mobile of the Republican side. Due to the current location of the cave paintings (away from the tour of the visits), these are not visitable.