Covalanas and la Cullalvera
In the town of Ramales de la Victoria there are two cavities that can be visited : Cullalvera y Covalanas.
If you wish to buy online for the two caves, the intervals between the start of each visit should be of at least 120 minutes of difference. The ticket for each cave can be obtained in the box office of each cave, placed next to the main entrance of both cavities. Remember to be at the box office, 15 minutes before the start of the first visit to obtain the tickets.

At the foot of Monte Pando, Cullalvera Cave, as it is known since time immemorial by the locals, is part of a highly developed karstic complex covering around 12 kilometres, where the action of water and time on the rock have carved out an exceptional cave.
This large sized cave has a spectacular entrance mouth where a strong, fresh current of air welcomes the visitor. In these magical surroundings, the large entrance mouth emerges from a leafy Cantabrian oak wood with a considerable ecological value.
Inside the cave, equipped with facilities for the disabled, the route is lined by a handrail. The visit commences with an audiovisual presentation explaining to the visitor the features in terms of landscape, heritage, the economics and social aspects of the Asón district in general and of Ramales de la Victoria in particular.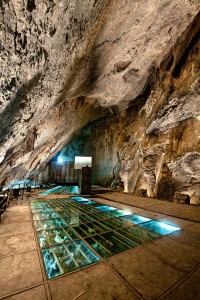 Once the visit inside the cave is underway, a spectacle of light, sound and water introduces the visitor to the history of the cave, harking back to remote eras of Prehistory when the first Homo sapiensinhabited the entrance hall, painting animals and signs several hundred metres from the entrance, down to the Contemporary Period, when the cave was used during the Spanish Civil War as a Vehicle Pool. A series of legends and stories envelop Cullalvera Cave.
At the end of the fitted out sector, visitors head once more towards the entrance, observing on their way the dimensions of this underground area as well as the various geological forms and formations portraying the geological evolution of this monumental cave that acts as an upwelling, a cave coursed by surrounding water bodies and, when it rains, from where water vigorously and noisily emerges from the mouth.